EXHIBITION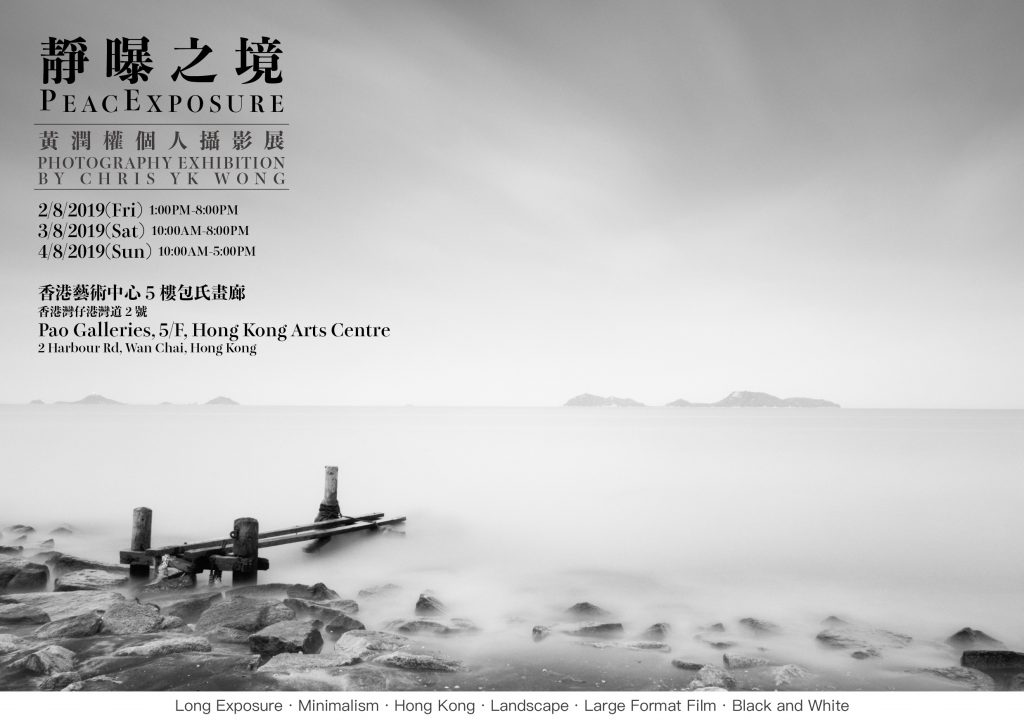 The bustling streets, the huge crowds of people, as well as the towering buildings make people's general impression of Hong Kong. Photographer Chris wants to capture the serene side behind the prosperity of the territory.
The exhibition features photos taken in long exposure as this kind of technique can paint a strong sense of stillness and also allow the photographer to enjoy the peaceful moment from his busy life.
The art works at the exhibition are presented in black and white photographs, showing the ultimate contrast of light and shadow. In order to enhance the feeling of quiet, Chris purposefully removes the color interference of the image, and thus the audience would be more able to focus on the details and texture of the pictures. Some of the exhibits here were created by large area of black and white film. That makes the operation process including metering, focus tuning, aperture tuning and the shutter speed adjusting time-consuming. However, the photographer can take his time to meditate on the scenery in front of the eyes during the calm and tranquil waiting time.
In order to find the best image effect and bring his audiences the best visual experiences, Chris insists that the photo shooting, the film processing, the image output and the mounting works of the exhibits should all be hand-handled by himself.
If we stop and quietly appreciate Hong Kong, we will find another sense of beauty in this light city.
繁華熱鬧的街道,熙來攘往的人群,高聳密集的建築,這是香港給予人們的普遍印象,而攝影師Chris希望拍攝香港繁華背後寧靜的一面。
「靜曝之境」將展出以長時間曝光手法拍攝的相片,而長時間曝光的拍攝手法能繪畫出強烈的寂靜感,從忙碌、喧囂煩擾的生活中擠出一點奢侈的寫意,拍攝出悠然安靜的畫面。
此外,展覽所展出之作品均以黑白相片呈獻,透過黑白影像展現光影極致的對比。在撇除色彩的干擾後,觀眾更能專注欣賞畫面中的細節和質感,為影像再添幾分寧靜的氛圍。
部分展覽作品以大片幅黑白底片拍攝,然而操作這類相機需時甚長,無論是測光、對焦、光圈、快門等也要以人手慢慢調教。可能正是因為操作需時,在等待曝光完成的時間可以靜心細味眼前的景色,相片亦特別有感覺。
Chris為求最佳的影像效果,堅持由拍攝、沖洗底片、輸出影像甚至裝裱都親手處理,為的就是對每一個細節的執著,希望帶來最佳的視覺體驗。